Going for one week to Warsaw and wanting high-speed internet and good coffee/tea, I decided to check out some co-working spaces in Warsaw where I could work. There seem to be several options from cafes to real and newly opened co-working spaces, so that I definitely will have to come back very soon to check some more off of my bucket list.
How did I get to Warsaw?
There are several possibilities how you can get from Vienna to Warsaw:
Traveling by airplane is probably the most convenient way to go to Warsaw, although it is probably also one of the more expensive ways. So because when I was checking tickets, the plane tickets would have been around 250 € both ways and the train tickets around 140 € I decided to stick to the train. If you don't look close enough, it may seem that it takes you way longer by train than by plane. But honestly, if you calculate the whole trip instead of the netto travel time, it probably is not that much of a difference.
Going by Plane
If you want to calculate the whole travel time you will have to add to the flight time also the "please arrive early" time and the buffer time as well as the "traveling to the airport" time.
1:40 h flight time
1 h early at the airport
1 h travel time to the airport
0:20 h buffer time, just in case
0:30 h travel time from the airport
==> total travel time: 4:30 h
Going by train
If you chose to take the train, it would take you way longer, but if you compare the prices, it also will be much cheaper. So I decided to take the train and to use the time on the train to read "The Life-Changing Magic of Tidying" by Marie Kondo. This is one huge advantage of going by train: you have to get to the train station, but then you can spend the whole 7 hours without switching or leaving your spot. While going by airplane means getting to the airport early, queueing up, waiting for boarding, boarding, flying … which means you are not in one place for longer than 1,5 hours.
Where did I stay?
If you have such an amazing family as I do — my cousin and his wife are the best kinds of people I know — you will always have a place to stay. And staying with them is not only super comfy and convenient but always a lot of fun. Normally I should always go on a three weeks diet before arriving in Warsaw because they seem to use my arrival as the perfect time to try out all those new restaurants that have opened since my last visit ;-).
Co-Working Spaces in Warsaw
Just a quick Google search will reveal that there are at least over 20 co-working spaces in Warsaw. So how to decide which one to take? Well, the only possible reason is with trial-and-error 😉
Because I had only four working days during my last visit and one of those days I wanted to work from home I, unfortunately, managed only to try out two places. But no worries, the next Poland trip is already scheduled for August 2018, where I will be testing the next few co-working spaces.
The two co-working spaces I have visited during my visit in March have been:
Google Campus Warsaw
During one of my previous visits to Warsaw, I already heard about the Google Campus. I decided now is the time to give it a try. The Campus Warsaw is in the district called Praga, so basically on the other side of the river, but still pretty convenient to get to. There is a real co-working space where you can work from, but while staying only for a week, it seemed reasonable to check out the cafe first things first.
Getting there
From my cousins place it took me about 30 min to get there by taking a tram and having to walk in total maybe for 10 min. The Campus itself is in one of those old buildings they renovate and make it into cool new venues, like shopping malls or co-working spaces.
How it works
The system is super easy: there is a real co-working space, where you need to rent a desk and pay for it. But on the other hand, there is also a cafè you can sit in with super fast wifi and nice desks including more than enough power plugs on every single desk. If you want to be there for one day, just stay in the cafe and enjoy your working time surrounded by like-minded people, who just want to get their shit done.
When you go there for the first time, you need to register online and get a free membership for the cafè. On arrival, you will get your own chip card with a code with which you can enter the cafè.
Coffee, Tea & Food
One really nice thing about Campus Warsaw is that you are working from a cafè, which means that you have coffee, sweets and healthy food that you can get for a pretty decent price.
Healthy protein shake: 14 PLN
Mango-Banana-Coconut Shake: 14 PLN
Lunch: 12 PLN
Hot orange spice tea: 10 PLN
Oatmeal cookie: 3 PLN
Americano: 8 PLN
There seem to be only two options for lunch: one with meat and one veggie.
Conclusion
Although the cafè itself is not super huge, it is more than enough if you want to spent just a couple of hours working without having to go through the whole rent a desk for a month issue. The food is delicious, and you can grab something in between as well. If you want to eat something else, then the lunch that the cafè offers, you will have to go a bit further to find a decent place to grab something to eat.
The other thing that was not as comfortable as I wished was the overall temperature in the cafè. I know that I am normally the person who freezes while staying on Koh Lanta in February, but at Campus Warsaw, it seemed to be super cold. Maybe this is the perk that comes with opening a space in one of those old buildings. Otherwise, this is a good option when you want to join one of the co-working spaces in Warsaw on an irregular basis.
Bobo Workspace
While I worked two days from Campus Warsaw, I decided that I would love to try out another co-working place, while staying only two more working days in Warsaw. After a short Google search and some location check, I found the newly opened (March 2018) Bobo Workspace. Because of the nice pictures, the great communication (at 10 pm) via messenger and the great location, the decision was made pretty quick.
Getting there
From my cousins place it took me around 22 min to get there by tram. The good thing is that it is also situated directly next to the subway station "Rondo Daszynskiego". So its location is pretty convenient. And no matter if you are arriving by tram or by subway, on the way to Bobo you will walk by Green Cafe Nero, where you can grab your coffee or some delicious sandwiches or those devious cakes they have. Once you arrive at Prosta 70, you have to convince the lady at the reception to let you through to the elevators and up you go on the 5th floor.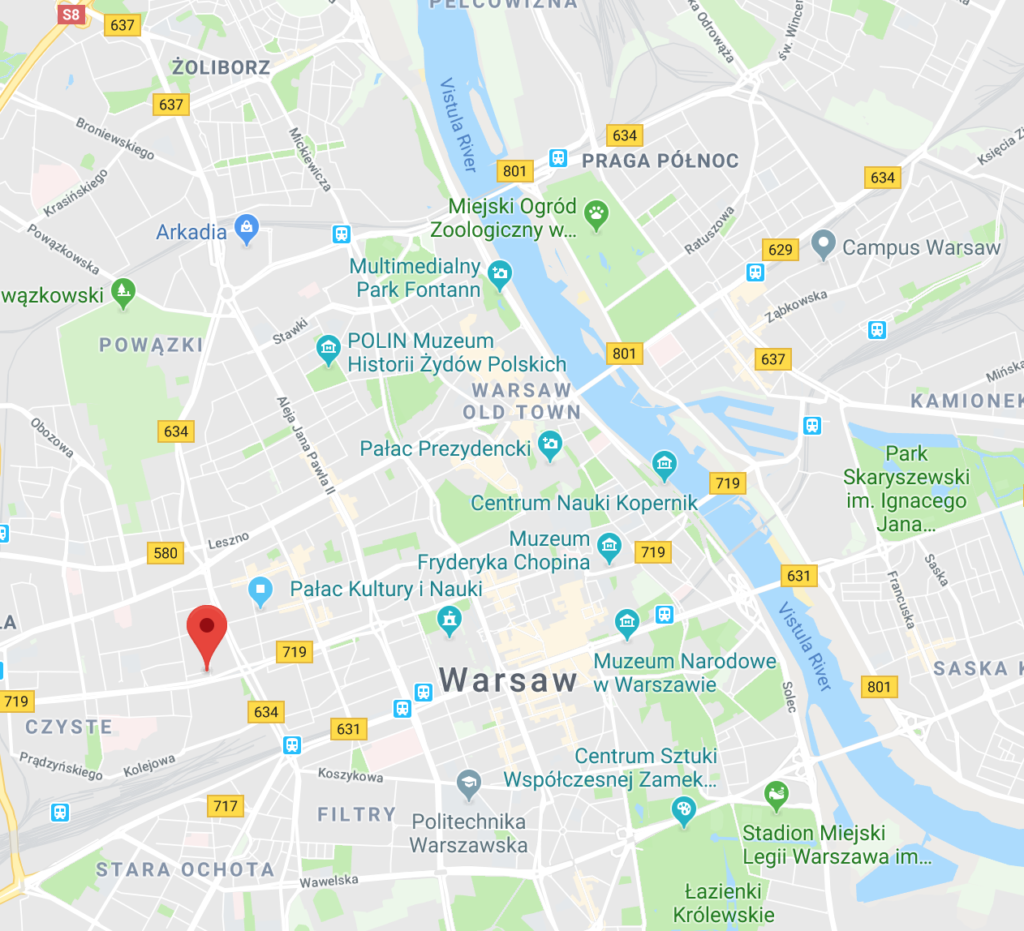 How it works
As mentioned before I had decided at 9 pm the previous day to visit Bobo Workspace the next morning and contacted them via messenger. Pawel answered me almost immediately and was super friendly. He assured me that it would be fine to come by for a trial day and he also answered my questions about lunch options and my typical inquiry about soy milk 😉
Basically, everyone can stop by for a trial day, but make sure to contact the guys before, so that they have space and time to give you a tour.
On arrival, Pawel welcomed me and also took me on a tour around the co-working space. It has a couple of hot desks and a lot of dedicated desks you can rent. Also, it has several office spaces, which you can rent — from 2 space offices to ones with space for up to 5 people. In between the offices and the dedicated desks you can also find places where you can just relax, have some skype calls or just change your perspective for a while. The workspace is absolutely astonishing and the design beautifully crafted and in harmony.
In comparison to Campus Warsaw, you get one trial day and then you will have to rent a desk. So renting a hot desk is around 700 PLN / month. Included are high-speed wifi, obviously, filtered water and a coffee machine, where you can grab different kinds of coffee, tea and hot cocoa (with milk or water), which I am enjoying right now … yummy.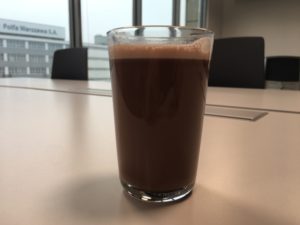 Coffee, Tea & Food
In the price included is a coffee machine, where you can grab different kind of coffees, hot water for tea and also hot chocolate (with milk or water). There is also filtered water. Unfortunately, the co-working space itself doesn't have any kind of food for their members. On the ground floor, there is a bistro, where you can grab some lunch. Or you take a 3 min walk to Cafe Green Nero and grab one of their delicious sandwiches, as did I.
Although the coffee machine seems to be pretty decent, it is not typical for a co-working space to lack really good coffee and in addition to not have an alternative for cow milk. I really hope the founders will try to improve this and at least put up some vending machines with drinks. And maybe even some snacks, so that you don't have to go through the whole "put your jacket on, move your ass out of the building, loose at least 20 min" just because you are craving a Snickers 😉
Conclusion
If you want to get serious and have a decent co-working space you want to work from or even rent your own small office (2-5 people), you should definitely consider Bobo Workspace. The staff, especially Pawel and Daniel, is amazingly friendly and forthcoming and the space is super new and beautiful. The only thing that I can't judge is the community. I think during the whole day I have been there I've seen maybe two other people working. I really hope that this will change, because it seems to be a nice place to get your shit done. If they will add some snacks or even maybe food stuff and add soy milk to their menu, I think I would consider this place to be my working space for a long-term stay in Warsaw. It is really a nice option out of all the co-working spaces in Warsaw.
What's next?
As mentioned before there are at least 20 co-working spaces in Warsaw, so still a lot of candidates for my trial-and-error test. On my list definitely top prioritized are the following ones:
It seems that I will be pretty busy next time I come visit my family. If you have any co-working spaces you like, while staying in Warsaw, I would love to hear about them.