A lot of people say that preparing a trip is almost as much fun as the trip itself. Honestly, I don't really get it. I mean yes — I love creating todo lists, and to-pack lists, and to-buy-before-we-leave lists, and whatever list you can think of. Name a list, and I will find a use case and integrate it into my daily life or even into my morning routine. But honestly? Better than the trip itself?! That would be like saying foreplay is better than the actual sex part! Hmmm … wait, let me think about the preparation part once again 😉 Ok, maybe comparing a trip with sex is not the best thing to do. But you know what I mean. Comparing packing, organizing and planning a trip to the trip itself is like comparing coconuts with pineapples. So although I love my lists and organizing stuff, the real trip is something I am looking forward to.
But before we go, there are tons of things to do and small little checkboxes to check on all my precious to-do lists. One of my biggest todos for this year's trip is to find a perfect day or at least a perfect morning routine for an amazing and energetic start into my day.
Why a "perfect" morning routine?
Having not being able to go to the gym during the last 2 weeks because of a small strain in my thigh, I noticed how not exercising in the morning totally messes with my whole day. Not only the obvious part that if you do not exercise for more than 7 days, you have to work hard to get back on track. But also my whole morning routine was a total failure. Normally I am waking up at 4:30 am. Drinking my glass of water and another glass of lemon water. Doing my exercises and my meditation. Moving on to journaling/reading/hand-lettering and then preparing my food for the day. After my home-routine, I am leaving for the gym and going for a morning class. On Saturdays, I am waking up a bit later, which means 5. But basically, it is the same routine as during the week but with a later gym class. Sunday is a special day, where I mostly don't do anything in the morning except trying to stay in bed a little bit longer than usual, which is damn hard if you are used to waking up between 4:30 and 5 am.
Having a routine in the morning helps me to stay on track. If I don't have to think about what I should do in the morning when it's 5 am but I already know exactly what the next part of my morning routine is, everything seems to be much easier. It's like you are on autopilot.
How do I wake up at 4:30?
People often ask me how I am waking up at 4:30 am every weekday. Honestly, I am just using the same tools that everyone else has — the alarm of my iPhone. That's it. There is no Navy Seal who is kicking my but out of bed and no Dwayne Johnsen who is motivating me to start my day. Not even a Dark Dweller called Elighan (if you haven't read this book series — OMG — loved it) who is trying to get me out of bed. Oh wait, he would try to get me into bed — wrong association — but also not the point!
The only thing that I am probably doing a little bit different than most people are, is to get up immediately after I hear the alarm go off. And that is probably the reason why a lot of people struggle with getting up early in the morning. You start to think! Stop doing this! Don't start to argue with yourself if you should really get up. Especially not in the morning when your bed is soooo much cozier than the cold world outside your bed.
If I would ask myself in the morning, while still lying in bed if I really want to get up, do you really think my answer would be yes?! NO freaking way! I would happily tap the snooze button on my phone, turn around and cuddle into my still warm pillow. But the thing is that I don't give myself the chance to even think about not getting up. The alarm goes off and I am kind of jumping out of my bed to not fall into this alluring trap of overthinking.
Ignoring my morning routine for 2 weeks
Because of the strain in my thigh, I have been skipping the gym class for almost 2 weeks. Two very long weeks. The thing with a morning routine is, that if you change one part without consciously thinking about it and adjusting to this change, there is a pretty big probability that your whole morning routine will fall apart. And that's what happened during the two weeks with mine.
Instead of waking up at 4:30 am and doing my whole morning routine I tapped snooze on my phone. Yes, snooze. I think I can count the times I did that before like on both of my hands. But during those two weeks, where I knew that I didn't have to leave for gym classes and I also knew that I couldn't do my morning exercises at home, because of the pain in my thigh, I was pulled to the dark side of the force.
I have to admit that the couple more minutes x 2-3 have been enjoyable. Snuggling into my pillow, cuddling with my boyfriend and just keeping my eyes shut for a few more minutes. But as soon as I got up and didn't have a plan, I was lost. Lost in the confusion and uncertainty what to do next.
And the thing is, that this screwed up morning routine did not only influence my mornings but also my whole days. I felt restless but at the same time as if I have not been able to accomplish anything. I felt like a failure and totally unsatisfied. And these past two weeks have been the worst days since a long time when it comes to my self-consciousness and my inner hero.
Routine back in Vienna
Being since two days back to my normal morning routine, although still trying to take it a bit slower with the exercises at the gym, I feel already more like myself than during the last 14 days. I am waking up as planned at 4:30 without even thinking about snoozing. I am doing my exercises and meditation at home. I am creating new hand-lettering pictures every day. And I am happily joining the Kick Boxing and Boot Camp classes every day from Mon-Fri. At large I can say, that my whole days become better and I feel more satisfied with having been able to follow an amazing and successful morning routine.
Now you know what a morning routine does for me and what my benefits are. So let's talk about how my morning routine looks like in detail. I have a pretty decent morning routine in Vienna, which includes exercising, meditation, reading/writing/hand-lettering, preparing for the day and having some me time.
wake up at 4:30 am
toilette & bathroom for a quick sponge down
drink 1 glass of water + 1 glass of lemon water
six pack exercising & slow-mo kicks & stretching
meditation
hand-lettering
prepare protein shake for after the gym
go to the gym
go to work
This routine works miracles for me and I love that by 9 am in the morning I have done more for myself then most people during the whole day!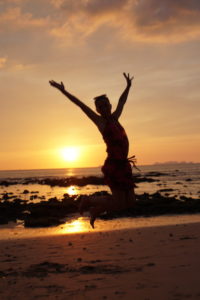 I wanted to add a visualization part to my morning routine since a long time, but I had no clue how to do it. Although I am not a fan of New Year's resolutions and even if it kind of isn't one, a goal for 2018 is to find a way to include the visualization part into my morning routine.
Although I know, that my morning routine on Koh Lanta will look differently, I still want to find the best fitting morning routine for this time.
Morning Routine on Koh Lanta
As mentioned before my biggest to-do for this years Koh Lanta trip is to figure out a suitable and doable morning routine for my start into the day.
So bare with me and let's take a look at what this routine should include:
exercising
Kick Boxing
Swimming
drinking a lot of water
meditation – outdoors would be great
hand-lettering/reading/writing — I would love to write more for my blog
appreciating the possibility to be on Koh Lanta – no clue how to include that one
spend some precious time with my boyfriend before we head to work
have a protein shake/breakfast — preferrable outdoors
maybe something I haven't thought off yet
Now that I know what I would like to be part of my morning routine, let's try to figure out, how a schedule could look like.
Exercising & Kick Boxing & Swimming
Staying this year for the first time at Lanta Sport Resort, which is next to Lanta Gym, where they teach Muay Thai, makes the exercising part pretty easy. Honestly one of the reasons why we are staying at Lanta Sport Resort is because of the gym. Last year I started going there 2-3 times a week for the 8 am Muay Thai classes and found, therefore, my true love — sorry G. ;-). The second reason is that a couple of my extended family are staying there and I am also looking forward to the legendary pool parties. So let's say I will go 3 times a week for Muay Thai – Tue, Wed and Sun. I would love to add two more days of exercising in the morning for Mon and Fri. What I can do is definitely my exercises at home, but that's not enough and because I am not sure if they have some weights at the gym that I could use for my training, I will have to keep an open mind and figure out what to do while being on Koh Lanta. But because I want to improve my swimming abilities as well, Mon and Fri will also be the days where I will go for at least a 30 min swim in the great swimming pool at Lanta Sport Resort. After trying out swimming at my gym in Vienna and noticing that I suck so bad at front crawling, this is something I want to master while being at Lanta Sport Resort. And another challenge is doing 40 push-ups in a row. I managed shortly before Christmas 2017 to do 30 push-ups in a row. So let's level up!
Obviously Wed and Sat will be my days off.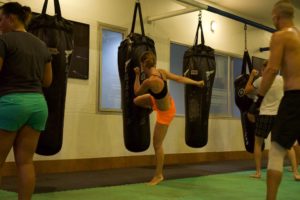 Drinking a lot of water
That shouldn't be a problem, right? Wrong. I have big issues with drinking enough water throughout the day. You may think, well your drink already 800 ml in the morning, what's the deal? Well, the deal is that after those two glasses of water in the morning I can go without a drop of water for the rest of the day. And it seems pretty obvious that is not how it should work. And it is probably even more obvious that while staying on Koh Lanta for a longer time with an average temperature of 28°C it's even a worse idea. So yes, drinking water in the morning should definitely be a part of my morning routine and I should probably double the amount of liquid.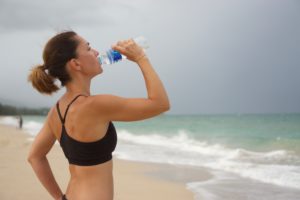 Morning routine: after waking up I will drink my 500 ml pure water and after that, because it is pretty hard to get real lemons on Koh Lanta I will either drink another 500 ml of lemon water or 500 ml of water with electrolytes until I leave the house for work.
Meditation
Before my strain in my thigh, I havent't been doing meditation in the morning. I'm not sure why. I was struggling with my progress, so I exchanged meditation with adult coloring books. Then I also stopped doing that. For Thailand, I would like to integrate this part into my morning routine and to try to stick to it, every single day. Waking up at 5 am (I know, it's 30 min later than in Vienna ;-)) should give me enough time to fit in additional 10 min meditation before Muay Thai classes. For now, I use "Headspace", an app for my iPhone, but if anyone has a better suggestion — I am open to (almost) everything and love trying out new stuff.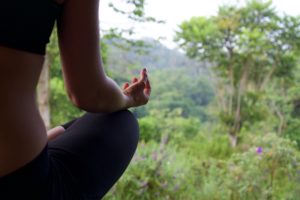 Hand-lettering/Reading/Writing
A couple of weeks ago I went to a "Hand-lettering" workshop with a really good friend and fell in love with this super easy but beautiful way of mastering hand-lettering. I always thought that it must be difficult to create something so beautiful, but honestly, if you have the right tools, it's super easy. I even got a little bit crazy and ordered just a couple of pens on Amazon. If you need a bit of inspiration what to buy, check out my Amazon list below:
Morning routine: Create each day a new inspirational quote in my sketchbook. In addition, find the time to write once a week a blog post about my experiences and my Digital Nomad life.
Appreciate being on Koh Lanta
I'm not sure if this part is the same as meditating outdoors. But honestly I could improve my appreciation part a lot, so why not try to find something that will help me with that.
Things I could include in my morning routine — I have to admit I am a bit blank here:
go for a walk in the morning
sit on your terrace and write down what you appreciate
think of one thing you could do today, to make another person smile/happy
any further ideas are more than welcome
Precious morning time with my boyfriend
Although our time on Koh Lanta is a time where we see each other kind of 24h a day, 7 days a week I sometimes still have the feeling, that we do not have enough "us-time". Therefore I would love to have this "us-time" included in my morning routine. One way would be to take our time and just sit outdoors in the morning and spend 15 min just sitting and chatting. Note to me: without planning anything!
Morning routine: Ask G. If he would be willing to do the 15 min chatting with me in the morning.
Protein shake/Breakfast
At least 3 times a week I should eat a decent breakfast. This means everytime after the 1,5 h of Muay Thai training I should eat muesli with vegan milk and some bananas and browntop millet for breakfast. On the other days, I will drink my Foodspring Neutral Protein Shake. And on Sunday after Muay Thai training I will definitely try to relive the Communal Breakfast tradition at Moo Uan "The Fat Pig". It was so much fun and always a great day.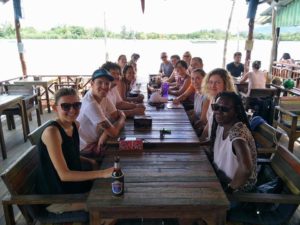 Something else?
I am not sure if there is space for anything else, but honestly, I love trying out new things and new habits and routines. So if you think that in my morning routine something essential is missing, please let me know and share with me your idea of what I could include and how.
How to track my success?
In order to see if I missed something and to keep myself accountable, I created a table, where I can keep track of my success. I'm not sure if this is the final version, but for now, it is enough.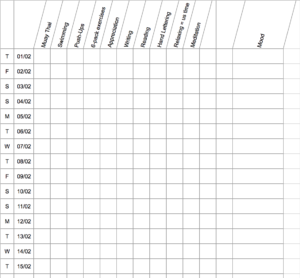 Hopefully this table will be super colorful and full of painted squares at the end of our Thailand trip ;-).
Benefits of a Morning Routine
If you have maybe started thinking about creating your own morning routine, but are not yet 100% convinced, let me summarize a couple of benefits of an implemented routine for your mornings.
a great start to your day
something you are looking forward to and therefore
no snoozing of your alarm
before other people wake up you have invested already time in yourself
you are fully awake and ready for the day ahead of you
you don't have to think in the morning because you have a bulletproof routine that helps you to kickstart your day
you are feeling way better
and your overall attitude will improve
I would love to hear more about your morning routines and what they include. If you have your own routines, please write in the comments, what those include, so that we can learn from each other.