My sister and I have been talking about going for a Harry Potter trip to London for what feels like ages. Both of us always eager to go but none of us really having the guts to take the first step and book something or even talk about a specific date. I am not sure what the reason for that really was. The anxiety of spending 3 days together after having some rough years regarding the relationship between the two of us. Or just being afraid of two totally different expectations concerning the trip. I honestly am not sure, what the reason was that we both have been postponing this trip for so long. But the important thing is, just a couple of days ago we did it. We finally did it. No Hokus Pokus – no postponing anymore – no hidden trapdoors, at least that we know of 😉 We finally booked almost all the most important things you can possibly think of that are Harry Potter related and situated in London 😉
How crazy are we?
Just so that you know how crazy the two of us really are, I wanna describe a couple of situations for you before we dive further into our Harry Potter and The Crazy Sisters trip planning.
Release of the last book
I remember clearly the time when the last book was released in Austria. Although I don't remember the exact date, I do know that it was on a day, where I was on a business trip and wouldn't have been able to get a new copy by myself. I recall meeting my sister during lunch break – she came to my office – just to bring me the newest book, so that I would be able to read the first couple of pages during my lunch! I mean honestly? Couldn't I wait for just a couple more days? Ehm, … no, obviously I couldn't 😉
Thanks, sis once again for supporting every kind of my craziness.
Going to the movies
If you are a Harry Potter fan or a fan of any kind of other movies, you probably prefer to watch those Hollywood blockbusters on a really huge screen. Which basically means to go to the movies, buy yourself a huge bag of Pop Corn, find someone who will share a huge portion nachos with a double portion of cheese sauce and a beverage of your choice. If you are like me, in addition to all this you would have packed your Harry Potter Chocolate Frog and BERTIE BOTT'S EVERY FLAVOUR BEANS. Aaaaand on top of that you are obviously equipped with your wizarding hat 😉 And no worries, as soon as the movie started I did take it off, so that also the Muggles behind me, were able to watch the movie without any crazy witch blocking their view.
Re-Watching all of them every single time
The more timeconsuming thing, that shows how crazy we really are is the fact that every single time a new movie was released, we re-watched all previous onse. And although I love the movies and I am a really huge fan, you can imagine that with releasing the 2nd part of the 7th book that project had to be started pretty in advance and had to be planned rigorously.
Just to give you some numbers: preparing for the 2nd part of the 7th book screening, "Harry Potter and The Deathly Hollows" meant rewatching 7 movies with a total length of 17 h 50 min.
"Harry Potter and the Philosopher's Stone" … 2 h 39 min
"Harry Potter and the Chamber of Secrets" … 2 h 54 min
"Harry Potter and the Prisoner of Azkaban" … 2 h 22 min
"Harry Potter and the Goblet of Fire" … 2 h 37 min
"Harry Potter and the Order of the Phoenix" … 2 h 22 min
"Harry Potter and the Half-Blood Prince" … 2 h 34 min
"Harry Potter and the Deathly Hallows" – Part 1 … 2 h 26 min
"Harry Potter and the Deathly Hallows" – Part 2 … 2 h 10 min
What are the essentials?
But let's get back on track and talk about the essential things you have to do on a Harry Potter trip to London.
At some point you have to get somehow to London. If you are not in London, you can't do a Harry Potter Sightseeing Craziness. So we decided on booking the flight first things first. And believe me: deciding on a date was more difficult than figuring out what you like better: Hermione's bag of awesomeness in "The Deathly Hollows" or Weasley's tent in the "Half-Blood Prince". I know that is an impossible choice!
Still, we did manage to find a timeframe in our oh-so-busy lives and booked a direct flight from Vienna to London and back. Flying there on Sunday early morning and returning on Wednesday late evening. So we basically have 2 full days and 2 3/4 days to fulfill the most important Harry Potter duties London has to offer.
The second most important thing is the place to sleep … ehm … well, honestly not really. You will be always able to find a place to sleep, maybe not the nicest one, especially in London but still … so we skipped this part for now.
Harry Potter — Two Lists
After knowing when we would go to London, we finally could start booking all the Harry Potter themed craziness that London has to offer. Let's start by presenting you two different lists. The "if you are a Harry Potter fan, you definitely need to do this" list and the second "if you are as crazy as we are, you need to do these things on top of list 1" list.
List #1 — the obvious ones
Warner Bros. Studio Tour
Harry Potter and The Cursed Child
Harry Potter Walking Tour
List #2 aka "if you are as crazy as we are …"
Harry Potter Escape Room
Harry Potter Afternoon Tea
The Cauldron
The Blind Phoenix
The Georgian Hotel
The Magic Breakfast at the Georgian Hotel
The MonaLima
The Magical Experience at the Georgian Hotel
List #1 — the obvious ones
Let's start with the most obvious things you should do when you go to London and you also tend to be a Harry Potter fan.
The Harry Potter Warner Bros. Studio
What everyone will suggest is probably the Warner Bros Studio Tour. It is a small Harry Potter world, where you will be able to enter through Hogwarts Dining Room and move on to all different sets, where the movies have actually been shot. This is a really nice experience and it is crazy when you think about the fact, that Hermione, Harry, and Ron have really been sitting in those chairs and lying in those beds, while the movies have been made.
The sets are amazing and also the walk through the Forbidden Forrest and Diagon Alley is amazing. As you have probably already noticed I have already been there and I will definitely go there with my sister again. Especially because they seem to have opened a new section: "Gringotts Bank" ;-).
Book your ticket
… but which one?!? Ok, so in my opinion, the description of the tickets and what is included is a little bit misleading and confusing. But maybe that is on purpose.
The misleading part for me was that it is not 100% clear if the cheapest ticket also includes a Digital Guide or not. If you check out the options, it wouldn't even include a Studio Tour Ticket, which obviously has to be in the package, because what would be the point of this ticket otherwise?! But as mentioned before, maybe they want you to buy the next reasonable option which would be, or at least it was the one for us, to get the "Adult Complete Studio Tour Package". If you want to have an Audio Guide and you want to be sure to get one, chose this option. Anyways it is just £10 more expensive and includes a Paperback Souvenir.
Below you can find the original table with all possibilities for purchasing a ticket (the screenshot was taken on the 8th of August, 2019 from the Warner Bros Studio Homepage).
How to get there?
If you want to get there by public transportation you can just check out the website, where Warner Bros. Studios describe the best way to get there. That is pretty convenient and worked out the first time I was there.
Information by Warner Bros. Studios: "The Studio Tour's nearest railway station is Watford Junction and direct services arrive there from both London Euston (20-minute journey) and Birmingham New Street (1-hour journey). Regular shuttle buses, operated by Mullany's Coaches, run from Watford Junction to the Studio Tour with a journey time of around 15 minutes. Buses run every 20 minutes from 9.20am (with additional services available from 8.15am when the first tour is at 9 am). Travel ticket: £3.00. You will need a valid Studio Tour ticket or booking confirmation for the date of travel to use this service."
So assuming that the train from London Euston takes 20 mins, the bus from Watford Junction takes 15 min and leaves every 20 min, you have to be there 20 min before your slot, we figured that it would be best to grab a train from London Euston 1,5 h before our booked tour beginning time.
There are 2 queues
Be aware that if you have booked your tickets online, you will have to stand in one queue to just print out your tickets before you get in line for the real queue to get into the studio ;-).
What does it cost?
The price depends on the ticket you booked and the transportation you took, but I can tell you how much it was for us.
Price list:
1 x Adult Complete Studio Tour Package:  £54,95
Shuttle service from Watford Junction to Warner Bros Studio: £3
Shuttle service from Warner Bros Studio to Watford Junction: £3
ButterBeer – and I already know that it is sooooo not worth like even a cent, but probably we still have one, even if it's just for the picture :-): ~£5
Getting to and from Watford Junction: 2 x £10,50
Sum of: £86,95 per person
Which honestly is not too bad for a half or even full-day experience.
Harry Potter and The Cursed Child
The next very common thing to do, when you visit London and tend to be a Harry Potter fan is to watch "Harry Potter and The Cursed Child" at the PALACE THEATRE in London. Based on an original new story by J.K. Rowling, Jack Thorne and John Tiffany, Harry Potter and the Cursed Child is a new play by Jack Thorne. This is the eighth story in the Harry Potter series and the first official Harry Potter story to be presented on stage.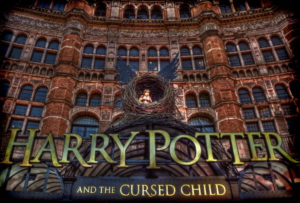 Book your ticket
I have to admit, that wasn't an easy task. It took us I think 3 days to finally settle and book the tickets, because once again … totally misleading and confusing!
There are several websites where you can book your ticket for the play and after a looooong trip through all those websites, we decided to book through the Nimax Website.
How to get there?
The nearest underground station is Leicester Square (Northern and Piccadilly lines).
Address
Palace Theatre, Shaftesbury Avenue, London, W1D 5AY
What does it cost?
Long story short: we booked the following tickets for £290 per person. I know, the price is horrendous but hopefully worth the money!
Harry Potter Walking Tour
The last thing what everyone probably wants to do while being on a Harry Potter trip to London is some kind of walking tour. And what better way to do this then combining a walking tour through London with the general theme of our trip: Harry Potter ;-).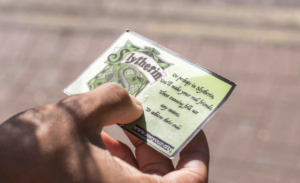 Book your ticket
So while there are several different walking tours around London, we wanted to combine this experience with our trip topic "Harry Potter". Searching for walking tours with this specific theme you can imagine that we still have been overwhelmed with what London has to offer. But long story short, we decided on one that was really highly rated on TripAdvisor, had operating hours that would fit into our schedule and was still in a price range that would be suitable for a walking tour.
As a result of our research we decided to book our tickets through https://www.getyourguide.de and the tour that we decided on is called "Magical London: Harry Potter Guided Walking Tour"
How to get there?
The meeting point for this tour is pretty convenient – directly in front of the Palace Theater, where we will be on Sunday already, so no way we will not be able to find it 😉
The end of the tour is at King's Cross platform 9¾.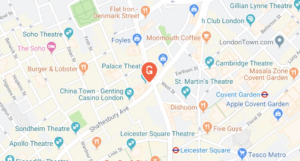 What does it cost?
The tour is £ 20 per person for a 2.5 h walking tour, which includes the following sights:
Diagon Alley
Gringott's Bank
Platform 9 ¾
Warner Bros. Shop
Millennium Bridge
Daniel Radcliffe's School
Knockturn Alley
Winchester Palace
900-year-old Clink Prison
Shakespeare's Globe
Southwark Cathedral
800-year-old Borough Market
St Paul's Cathedral
Chewing Gum Graffiti
Great Scotland Yard
Sherlock Holmes' Pub
Trafalgar Square
The world's smallest police station
Sir Francis Drake's world-famous Golden Hinde
River Thames
The London Eye
The tour we booked will be in English with a hopefully experienced and hilarious guide.
"Keep up, and follow me."
Harry Potter trip to London
As you have noticed there are several things you can do and see while staying in London that are Harry Potter related. Our first list contains only three main things, that probably everyone would do who would be going on a Harry Potter trip to London. The second list contains more of the hard-core-fan stuff. Because this list will be definitely longer and more intense than the first list, I will not overstrain your attentiveness. Instead, I will give you some time to rest and prepare for the next post on how to make your Harry Potter themed visit to London even more exciting.
Stay tuned and watch out for the 2nd list. And of course also for the reviews of the sights after our London trip in October 2019.