and going back home. One of the hardest decisions ever. I hate to admit it because some of you will probably think that I am crazy. But leaving Koh Lanta two weeks earlier than planned, was one of the hardest decisions ever. I know that I am lucky to even have been able to spend at least 4 weeks on Lanta. And I am also lucky to have had the possibility to go back home. Especially because a lot of KoHubbers that I have been talking to don't even have a "home" to go back to. Either they have rented it out. Or because they basically don't have a home base at the moment. So yes. I am a lucky girl. I have a home I can return to. It is available right now and I have everything I need back in Vienna, Austria. But still, leaving Koh Lanta and people who have so quickly became my chosen family behind, without having the possibility to take them with me back to safety, was tough. And I hated every single part of this decision! And being back home I still do!
But nevertheless, I had a couple of hours left on Koh Lanta before I was going to be picked up by one of Apple Travels drivers. So let's see what one can squeeze in during your precious, last hours in paradise.
Waking up to "good" news
I woke up to some messages from my good friend Katja back in Vienna who had some inside information. She mentioned that my flight was still scheduled, and that it was basically already on its way to Thailand. This meant that the plane would also go back to Vienna. And that may sound super obvious to you. But honestly, for the last two days this was one of the biggest uncertanities. At some point Austrian Airlines announced that the last flights going back to Austria would be on Wednesday night. My flight was scheduled for 11:55 p.m. and I really hoped that "Wednesday evening" included this flight as well. And here I have to admit that I am once again grateful for my family who talked me into taking the earliest possible flight back home. Otherwise I would have deifnitely decided on booking the flight on Friday, to have two more days on Lanta. And that would have been to late, because it was cancelled shortly after I decided and booked the one for Wednesday, 18th of March 2020.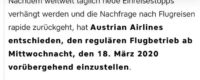 Still, reading the "good" news from Katja, I was at the same time relieved but also disappointed. Obviously relieved because I made a decision and the plan was still on track. And disappointed because if the flight would have been canceled I would probably be able to convince myself that I did the best I could to leave Koh Lanta, but it just wasn't meant to be.
One last "Good Morning Koh Lanta"
Anyways. I was debating for a long time with myself about when to set my alarm for my last day on Koh Lanta. One part of me was telling me to totally skip sleep and just enjoy the moon, the stars and the balcony. The other part was trying to convince me, that I would not only have a 22-hour long trip ahead of me but also a hell of a workday after coming back home. Don't ask me how I made the choice, but I decided to go to bed and wake up at 7 a.m. to spend some more time on the beach and enjoy some relaxed hours on this beautiful island before I finally had to leave Koh Lanta for at least 10 months.
One last time going to the beach
I was really thinking of either going to one last BootCampt with Slava or at least going for a swim in the pool. But BootCamp seemed like a bad idea because of Corona and all the sweating and sharing equipment. And doing some lapses in the pool? I mean yes, I can't do those in Vienna with such a beautiful sky. But still – BootCamp and pool is something that I can also do back home. But beach? Nope, no beach or sea in Austria. So I decided to go to the beach and spend some time digging my toes into the sand and swallowing a lot of saltwater by almost drowning while doing stupid "I can easily grab this shell" stunts.
And in addition, I had the opportunity to have one more guided meditation by Laura — what an amazing way to start the day. She also helped me, at least for a couple of minutes, to convince myself that my decision to go back home was not the worst one. Well, it lasted for the next 30 minutes. After that my brain was once again exploding with thoughts like "Woudl it be possible to rebook my flight again?, "Would it be wise to stay on Koh Lanta?", "Why the heck am I leaving?" and one of my favorites: "Did I make the right decision?".
One last massage at Dreamy Spa
Because I already knew out of experience that I wouldn't survive more than 2-3 hours on the beach because I would get bored as hell — yes the book on my kindle right now is not the most entertaining one — I decided to go for one last massage to Dreamy Spa. I whatsapped them and asked for an appointment for 10:30 am. That would give me enough time for a 1-hour treatment and my last lunch at Fruit Tree Coffee House, where I would have my first and last Avocado on Toast with Salmon and Poached Eggs with my KoHub gang. Appointment confirmed! So being for 4 weeks on Lanta already, I made it to the appointment at Dreamy Spa with a delay of only 5 minutes — finally, I got the flow of Lanta time 😉 I decided to treat myself with a Hawaiian 1-hour massage and that was absolutely one of the best massages I had this year on Lanta. After this relaxing and amazing massage, I came downstairs and Sara and Collie have been already waiting for me — my private pick-up service. Once again I have to thank Sara for always driving me around, giving me some rides and always having me on her scooter as a passenger. Without you, Koh Lanta wouldn't have been so much fun, obviously not only because of the many scooter rides 😉
… saying goodbye to Dreamy Spa, stepping into my flip-flops, putting on my helmet and mounting Sara's scooter, we made our way south to one of my favorite places: Fruit Tree Coffee House.
One last coffee at Fruit Tree Coffee House
Going on one of my last rides as a passenger on Sara's scooter, I tried to enjoy the ride and be thankful for the time that I was able to spend on Lanta. After a way too short ride, we arrived at one of the best places to have coffee on Koh Lanta. The cute little cafe named Fruit Tree Coffee House and owned by Bamon — one of the nicest and most cheerful people I know. Already waiting for us was the usual KoHub Gang: Alison, Alex, Adam, and Laura. I really felt honored that all of them were willing to spend my last lunch with me. Especially because I know that everyone was struggling with the current situation concerning Corona and the big question "Shall I go or shall I stay?!".
After settling down and being grateful for those amazing people I was able to spend so much time with on Lanta, it was time for the next big decision. What shall I get for my last lunch on Lanta?! Nah … just kidding. Everyone who knows me just a tiny little bit, knows exactly that I didn't even have to glimpse at the menu. Of course, it would be the "Avocado toast with poached eggs and topped with some salmon". And because today was a special day I even added some beetroot hummus — what the heck — you only live once 😉
On top of all this heavenly food I also ordered a Cafe Latte with Almond milk … and I didn't even have to finish the sentence. The lovely waitress already knew "… and some honey". Yes indeed 😉 This is the moment, which Sara also pointed out, where you know you are a local and which also makes it so much harder to leave this place.
And OMG — if you ever come to Koh Lanta you have to order this piece of heaven. And if you have been to Lanta already, and haven't visited Fruit Tree Coffee House yet … shame on you — don't you even dare to speak to me … like ever! Ah, you know what, I am in a good mood … you are forgiven 😉 But only if the first thing on your todo list, if you ever step foot on Koh Lanta will be to go and grab some amazing breakfast at Fruit Tree Coffee House.
A lot of hugs & Leaving Koh Lanta
After having one of the best brunches ever it was time. OMG! I hate this part. First of all, I really suck at this emotional kinda stuff. I really do. Ask Laura — she knows! And second of all, saying goodbye means that it is getting real. Like super real. Like hugging friends — obviously without touching each other because of Corona … nah, that's not us … there was a lot of body contact and shared sweat. So we all said our goodbyes, I told everyone to visit me in Vienna and Sara and I left for our last ride on her scooter back to Lanta Sports Resort.
As we arrived I basically had about 40 min to take a shower, pack the rest of my stuff, check the weight of my luggage, repack again and not freak out. The good thing about having only 40 min for all of this is that there was basically not enough time to have a real over the moon freak out! While I was almost NOT freaking out, Sara was keeping track of me and the countdown to the pickup.
And then it was time: Wednesday, 18th of March, 2020, 2:40 pm (GMT+7) — the time when I totally involuntarily had to leave this beautiful island and all my friends ;-(
To be continued … Quarantine Diary: Day -1 part 2 – Leaving Koh Lanta