After not being able to go for my usual 2 months to Koh Lanta trip during wintertime in Vienna in 2021, a different opportunity was lurking around the corner. Pretty spontaneously a friend of mine — a long-term Co-Koh Lanta traveler, suggested going somewhere closer to Europe. After a couple of thoughts that we have been brainstorming back and forth, the decision has been made. Portugal, the small island Madeira and its main city Funchal seemed to have it all.
Why Madeira?
We have been looking for a place that would help us bridge the wintertime in central Europe. Secretly hoping that in 2022 it would be possible to go to my beloved second home Koh Lanta, Thailand. The reason why we needed to find an alternative for Koh Lanta was mainly because of the covid-19 situation. And the main reason was that our beloved co-working space, KoHub, was still closed.
Although there are several options in Europe — Greece, Croatia, Spain, etc. — Madeira seemed to be most appealing to us. The weather seemed to be reasonable, definitely nicer and warmer than in Vienna. The covid-19 situation was definitely better than in Austria and several other European countries. The proximity to home was absolutely within the boundaries of being able to get back home fast, if necessary. It seemed to match all the requirements: weather, beach, food, covid-19, …

Where to stay?
Although there seems to be a well-known Digital Nomad area on Madeira — Ponta do Sol — we opted for the capital Funchal. One of the reasons for this was that because of covid-19 we would probably be spending most of the time in our own 4-girls bubble. The other reasons included having the opportunity to go to great restaurants, having a beautiful space to stay in, and being in the hub of public transportation.
After several brainstorming sessions and after searching for places to stay on Madeira we found a beautiful place called "Casa do Sol". Located in the east part of Funchal, just 15 minutes walking distance from the city center. This place has almost everything that we were looking for:
enough bedrooms,
a big dining table for work,
an additional kitchen table so that we wouldn't have to clean up our working stations every time,
a nice outdoor area,
a garden,
a washing machine
and also a ground-floor for our workouts.
In addition, it also had a pool table, a herbal garden, and a bus station directly in front of the door.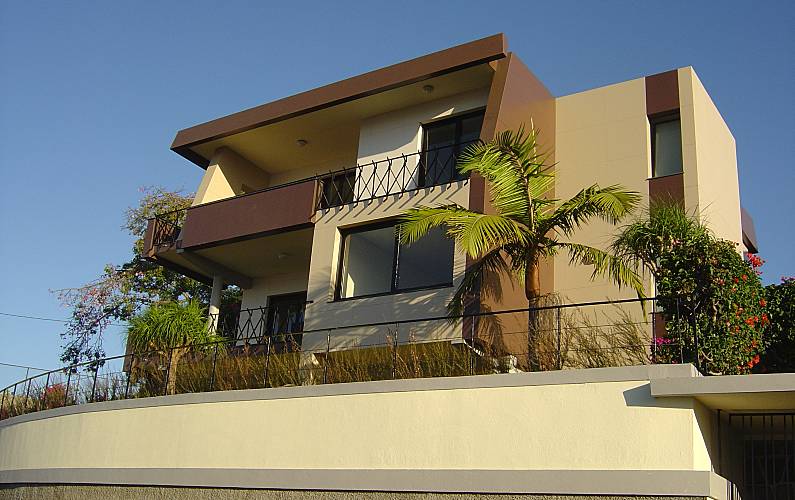 What to do on Madeira?
Although having decreased the average age on the plane to Madeira by at least 15-20 years, I wouldn't call Madeira a destination for retirees only. One reason for that would be that if you want to enjoy all the Levadas and hikes you definitely need to be prepared for some up-and-downhill walks, even or maybe, especially in Funchal. And those are not easy at all.
Levadas on Madeira
One of the things that you can do in Madeira is to visit all the Levadas. There are more than 200 Levadas on Madeira. The typical incline during Levada walks that I did was somewhere between 200 and 400 m. Although most of those are pretty flat and easy to tackle, they might be some spots where the path is pretty narrow, others through tunnels or walking several minutes on the edge.
I have been on several Levada walks and each seemed to be different from the previous one. This made it always a nice and unexpected experience.
On a Levada walk, you can expect beautiful nature, waterfalls, amazing views, great flora and fauna, and even some challenging inclines.
Hikes on Madeira
A lot of people have mentioned that Madeira is a hikers' paradise. I was promised a variety of different hikes not only when it comes to views, flora, and fauna but especially when it comes to difficulty and inclination. Well, I can tell you that all those promises have been kept and I was more than happy with what the small island of Madeira had to offer.
One of the first real hikes … and yes there are also "not real" hikes on Madeira, or at least I call them that (there may have been some disagreements on the difference between real hikes, not-real hikes, walks, etc.) … we did is also one of the most popular ones. Also known as the most challenging one, in terms of inclination and endurance, conquering Pico Ruivo, the highest peak on Madeira is a MUST-DO when you visit this island.
Beaches on Madeira
For a couple of years now I am more of an "experiencing nature on adventures" kind of person in comparison to the lying the whole day on the beach girl. So checking beaches off my list was an easy task. I even would have been happy with the 5 min of standing on the black sand on my first walk from Funchal to Câmara do Lobos. That would have been more than enough beach time for me.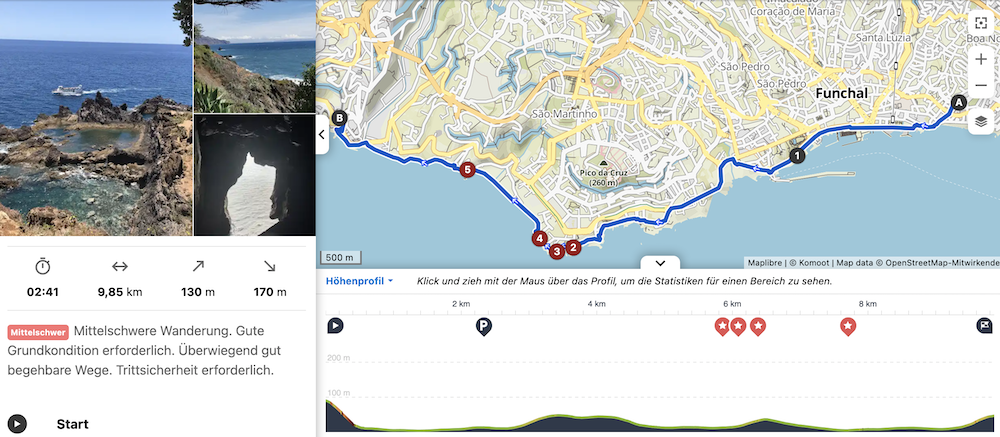 Luckyli, we managed to visit the small but very unique beach in Seixal after having had one of the most delicious "Bacalhau Verde" at Las Caraíbas.
I definitely agree that finding a nice beach to spend the whole day reading a book is not an easy task for Madeira. But to be honest that was not my main purpose.
Food & Drinks on Madeira
OMG … I don't even know where to start. There is so much delicious food on Madeira that I basically had to make — no surprise there — a list of what I wanted to taste. I was so overwhelmed that I needed not only one list but three, well let's say even four different lists.
food to taste 🍛
desserts to enjoy 🧁
fruits to savor 🥭
drinks to try 🍹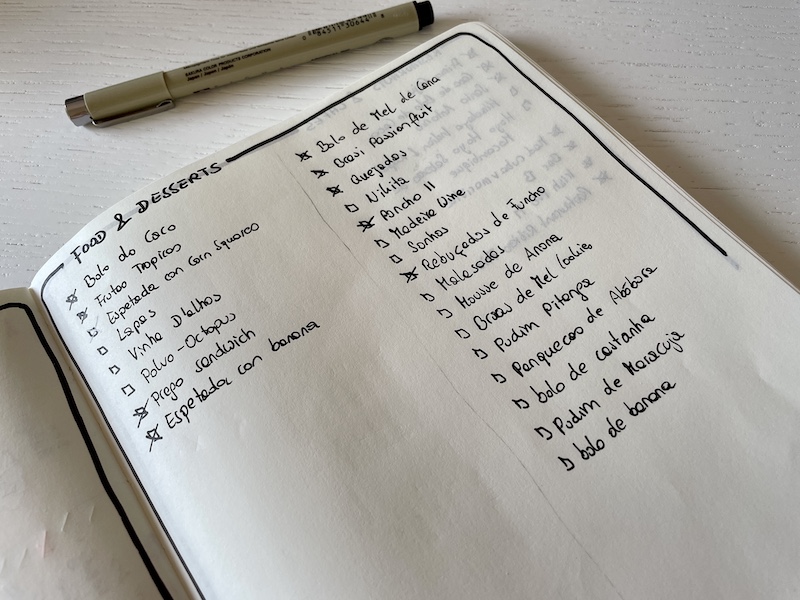 The main dish that you will see and hear about in Madeira is "Bolo do Caco".
Bolo do Caco is a food establishing a link between Madeiran bread and Arab-influenced bread.
Made from wheat flour, homemade yeast, water, and salt, it originally was baked in a stone (the shard) previously heated. This bread is eaten warm, preferably with garlic butter. There are different variations of the Bolo do Caco which transform a simple but delicious bread with garlic butter into a typical Madeiran sandwich infused with special flavors. One of the most popular ones is the Steak sandwich "prego normal". But my absolute favorite was the "carne de vinho e alhos", traditional pork wine, and garlic. One of the best places to get a Bolo do Caco in Funchal was Casa do Bolo do Caco.
For all the other things that have been on my "must-try" list check out a soon coming up post about Madeiran taste buds 🦐 🐟 🍉 🍷 🥪.
Sightseeing in Funchal
Although I have been concentrating on hikes and Levada walks on Madeira there is plenty to see and do in and around Funchal. Especially if you don't want to rent a car you will be happy with all the things that you can experience on foot in the capital of Madeira.
There are plenty of places in Funchal itself that are worth visiting:
What I really loved about walking around in Funchal was the street art that you can find on the doors of bars and restaurants. Such a lovely idea to make everything nice and cozy.
Sightseeing around Funchal
And there are also plenty of things and places you can get to by public transportation. But be aware. Figuring out the public transportation in Funchal and Madeira was not easy.
Some things that you can visit and explore near Funchal:
Cabo Girão Skywalk (Levada do Norte)
Camacha to Monte (Levada dos Tornos)
Levada Ribeiro Frio
Sightseeing all over the island
Of course, there are also a lot of places that are worth visiting that are not in the South of Madeira. Those you will have to get to by bus, Bolt/cab or by renting a car.
Bolt works pretty well on Madeira, although we have been canceled on a couple of times. But if you have time and don't struggle with deadlines or specific appointments you will be fine.
If you want to use a driver who will pick you up and drop you off at any location on the island and will be fun to be around I can highly recommend Paulo. Paulo has been our driver for several trips on Madeira. No matter if it has been 4, 5, or even 6 of us. He was always on time, picked us up at several separate spots, and even managed to get us some coffee before our sunrise hike to Pico Ruivoe. And especially the last "coffee-infusion" situation was a tricky one which he has managed exceptionally.
Just imagine 5 women waking up at 5 am to hike for 4 hours, only one of them being a self-advocated early bird, without power and water! And yes, the no water and no power problem was manageable. But NO COFFEE! Well, I don't have to paint you the picture, what a horrific situation could have manifested out of a lack of caffeine. But Paulo was our savior!
If you want to rent a car there are obviously many places you can do this. We managed to get a pretty good price (~€ 70 / 24h) at Rent-a-car. We had an Opel for 5 people including two designated drivers. Pick-up takes a bit of a time, but the drop-off was super easy.
Of course, there is also the possibility of renting a scooter. But that was a no-go for us – the streets in Funchal are crazy steep and therefore we just didn't want to risk it. And it also seems to be an issue to get up the mountains with a scooter.
Madeira — a hikers dream
Instead of the prejudice of being an island mainly for retired people Madeira did prove me wrong. It is a beautiful island full of stunning nature, amazing hikes, great walks, and great places to enjoy flora and fauna. And honestly, I can't imagine retired people walking all the hills up and down, and up and down, and up and down again … and that was only to grab some breakfast!
Dear Madeira, little did I know that I will fall in love with you! You will see me again.