Already on my third day on Koh Lanta, Thailand, I was attending a cooking class at Kwan's Cooking School. As I have done a couple of cooking classes in Asia and I have always been amazed by the quality of those, I was very much looking forward to this one as well. Loving to cook I am always eager to take cooking classes to learn something new and get to know the typical food, dishes, and ingredients of a new place.
The big difference between cooking classes in Asia and in Austria is the actual hands-on activity. In Austria, it is more of a common effort to prepare the meals. Everyone is contributing but you only focus on part of the tasks. One person is cutting the carrots. The other person is washing the salad. So you are cooking altogether. This can be a lot of fun, but when it comes to learning how to prepare a whole new dish I find it not the best method.
So my first cooking class back in 2016 in Chiang Mai was a huge surprise. The cook, who was amazing and funny, cooked every single dish in front of us. After showing us how to do it and explaining all the little details, each one of us had to cook his own dish. All by ourselves. Every single one of us got a portioned amount of ingredients for exactly one person. With some help from the cook we followed the steps he has shown us previously and everyone was responsible for his own dish. This method is, in my opinion, the best way to learn how to cook a specific dish. First of all, you prepare the whole dish on your own. Second, you can make it as spicy or not spicy as you wish. And third, you have to eat it if you screw it up 🙂
So I was really hoping to join this class and experiencing the "Asia-cooking-class-method".
Unfortunately, we only did one dish totally by ourselves. But, I have to admit that it was still a lot of fun and a really great experience. And Kwan! Oh my Buddha, Kwan is so amazing, that I would join this class just for the sake of her again.
Kwan's Cookery
Kwan's Cooking School is located directly on the main street on the west side of Koh Lanta. It is a small restaurant with an even smaller cookery school next door.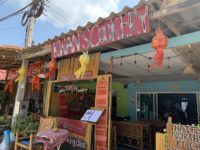 The Menu
We have been 5 people and we had to pick 2 appetizers, one main dish each and 1 dessert for the whole group from a prepared menu.
From different kinds of Curry, Fried dishes and Fish, it was really difficult to just choose one.
I decided on the Fried Fish with Chu Chi because I wouldn't make this one at home and I never had it before. For dessert, I suggested Kanom Ko, which according to Kwan was a really good choice.
Our Menu at Kwan's Cooking School
So what we have decided on was the following menu:
Appetizers:
Main Dishes:
Hristina: green curry with chicken
Sara: fried cashew with chicken
Kasia: fried fish with chu chi sauce
Laura: Panang curry with chicken
Tasha: fried basil with chicken
Dessert:
Kanom Ko
in addition, we also made some dessert out of sticky rice flour without sugar 😉
Kwan's Cooking School — The Cooking
As mentioned we, unfortunately, didn't cook all the dishes by ourselves. But the common effort was also a really nice experience and a lot of fun. Kwan was always eager to explain the process and to talk about the ingredients we would be using for our dishes. As soon as a dish was ready she always encouraged us to try it before serving it. This is a nice habit that I have seen in many cooking schools in Asia. And it makes a lot of sense. You don't want to serve some food, that you haven't tried yourself.
So after tasting the dish, adding some fish sauce now and then or some more lime, we received a couple of times the highest of compliments from Kwan. "Oh My Buddha" is what you get from Kwan when you have done a really great job. And yes, you get used to it and even adapt. So at the end of the class not only Kwan was using this little phrase to show her appreciation for the delicious food.
Papaya Salad & Laab
Starting of with the papaya salad we decided on making it super none-spicy so that everyone could add her own amount of Thais spiciness to the dish. Following the papaya salad, we cooked larb as 2nd appetizer. OMG – I love this stuff. Both appetizers are super easy to make and take less than 10 minutes to prepare. It amazes me every single time how fast you can prepare a meal that not only tastes great but also looks so damn pretty.
The secrets
For the papaya salad use a specific slicer and cutter, which is pretty hard to find even on Lanta. But if you find one, buy it immediately. It is such an easy-to-use tool and makes the preparation of the papaya, carrots, green mango or whatever you want to add to your salad so much easier.
For the laab we used roasted sticky rice. If you don't have sticky rice or can't get it anywhere, you can use any other rice. Roast it in a pan and then just blend it. Voila — one of the main ingredients of laab is ready.
Fried Basil with Rice & Fried Cashew Nuts with chicken
The next part was fried basil with chicken and fried cashew with chicken. Sara and Tasha cooked both meals at the same time and it was the perfect combination to be served together. I loved the fried cashews because they had a lot of veggies.
The secrets
To add a bit of color to the fried basil dish add dried chili sliced in rings.
If you eat your fried cashews with rice skip the Oyster Sauce. Otherwise, the rice will be too sticky.
Penang Curry & Fried Fish with Chu Chi sauce
After the first main dishes, it was Laura's and my turn to prepare our dishes. Laura prepared an amazing Penang Curry. And me? Well, honestly my dish was super easy! If you get your hands an a delicious fish that is ready to be fried in a ton of peanut oil you are good to go. The sauce is super fast made and that's basically it.
The secrets
The ingredients for Penang Curry and Fried Fish with Chu Chi are almost the same.
For the Fried Fish obviously use fresh fish and fry it in really hot oil. To make it a safe environment without you being splashed with super hot oil add some salt to the oil! And if you wanna know when the oil is hot enough, put in some charlotte. As soon as the charlotte is floating on the top, the oil is hot enough.
Kanom Ko
Finishing up with dessert we had a lot of fun rolling the sticky rice flour & hot water mixture into small balls with palm sugar stuffed inside. After you roll those little balls of sweetness you cook them in boiling water and cover them afterward with fresh shredded coconut. I have to admit these have been super delicious and once again — so freaking easy to make.
out of 500 g of sticky rice flour, we created probably at least 30 balls of heavenly sweetness and the girls took some with them to KoHub and hopefully shared with some KoHubbers 😉
The secrets
This dessert is so easy to make and is made out of 4 ingredients:
Sticky Rice flour
Boiled water
Palm sugar
Shredded fresh Coconut
If you want to make something without sugar, just make smaller balls and add them with some banana to some coconut. This basically is one of Thailands typical dessert and goes by the name "BUA LOY". I just found a recipe for these with some sweet potatoes. This I assume will give them a nice color and also some sweetness. Check the recipe for the sweet potatoes bua loy. If you want to have some additional color you can make some Pandan water bua loy.
Although we missed out on the Greem Curry, which was Tina's choice, we have all been pretty satisfied with the quality and especially with the amount of food 🙂
Kwan's Cooking School
Kwan was amazing. She explained every single detail. She mentioned all the little secrets and shared her yearlong experience with us. It was an absolute pleasure and I would recommend this cooking school to everyone who wants to have a bit of fun, delicious food and learn something to impress family and friends back home.