While staying on Koh Lanta for 2 months, we had to make at least one visa run, because of the restriction of being allowed only to stay for 30 days in a row without a visa. So what better place to go for a visa run than Kuala Lumpur aka KL.
We planned a 5 day trip so that we would have enough time to get to know Kuala Lumpur from each and every angle.
So in preparation for our KL trip I not only read the Lonely Planet Pocket Guide but I also asked KoHubbers to share some recommendations with us on how to spend our time in KL. The most frequent answer had always something to do with food. Everybody was talking about eating this and eating that and I kind of got worried that Kuala Lumpur had not enough in store for us to spend there 5 days.
But no worries — we managed to fill our 5 days easily with a lot of fun stuff.
Shopping Malls in Kuala Lumpur
One of the things that we saw immediately is that there seem to be a lot of shopping malls in KL. I myself know about at least 15 different shopping malls and that's probably just the surface of the malls environment in KL. So lets talk about my 5 top shopping malls in Kuala Lumpur.
Lot 10
The Lot 10 Shopping Mall is one of my favourites because it is really convenient and you can get some serious shopping done. Especially when you are looking for brands like H&M and Zara you will definitely feel lucky shopping there.
Low Yat Plaza
The Low Yat Plaza is known as the IT Shopping Mall in KL. I had the feeling that the floors have been somehow themed. So on one floor you could find most of the video gaming stuff while on the next floor you were transported into the Notebook section and one floor up you could choose between different Cameras. The one thing that I didn't like is being screamed at. I don't feel like buying stuff, while people shout at me from different directions, just to get my attention. That at least doesn't work for me.
But if you need some electronic stuff, that's definitely the place to go.
Pavilion KL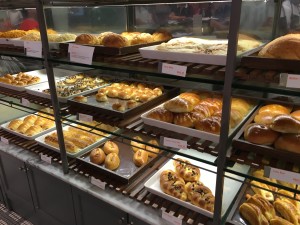 One of the nicest shopping malls in KL is definitely the Pavilion KL. The best thing about this particular shopping mall is that they have the best sweet dessert on the lowest floor. We've returned there three times in a row, just to grab some dessert. A nice add-on about Pavilion is that the AC-Tunnel can take you directly to the Petronas Twin Towers.
Suria KLCC
The Suria KLCC is probably one of the biggest and more exclusive shopping malls in KL. It has approximately 400 stores and is located at the base of the Petronas Twin Towers. When you stand in the middle of the mall and look up you can even see a part of the twins.
Berjaya Times Square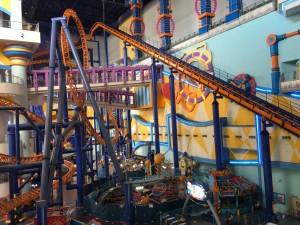 The Berjaya Times Square shopping mall holds a hidden surprise in it's heart. When exploring the mall for the 3rd time we managed to find a whole Theme Park hidden in the middle of the mall. What we aso found was a Escape the Room facility, where you can try to escape from nine different themed rooms. 


Escape Games in Kuala Lumpur
While planning how we could spend our time in Kuala Lumpur and me trying to figure out what would be the nicest sightseeing things, Gerwin had different plans. He managed to find at least 2 different Escape Games and wanted to do at least one room while our KL trip.
So because KL seems to be really more about food and shopping malls we ended up doing three different rooms at three different Escape the Room locations. And the convenient part was that they all seem to be located in shopping malls 😉
Escape the Room — Berjaya Times Square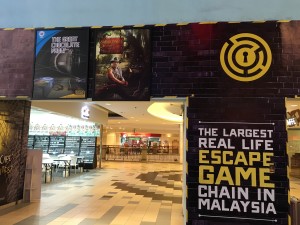 In the Berjaya Times Square Escape the Room location we unfortunately didn't manage to get out of the room in the given 45 min. We did the Heaven and Hell room because it seemed to be level 4 out of 5. But I have to admit that although I picked the room because I was really interested in the theme, it was poor and badly implemented. The story line was boring and the look and feel of the room was amateurish.
Breakout — Nu Sentral & Avenue K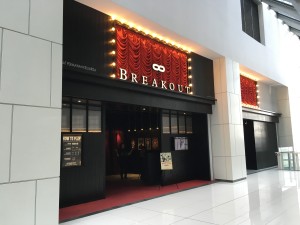 Both Breakout locations were really amazing. They were both situated in a shopping mall. The setting of both "Breakout Stores" was really something special and you felt that they really did manage to implement their attention to details. The rooms have also been really nice and decorated with a lot of themed things and gadgets.
The rooms we didn't escape from have been:
MATERIA MEDICA
THE GREATEST MURDER OF WESTWOOD
Boardgame Café in Kuala Lumpur
As usual when visiting a new city we have to check out at least one Boardgame Café. Last year in Bangkok we didn't manage to find the one we have planned to go to, thanks to the really unspecific address and not detailed enough google maps view.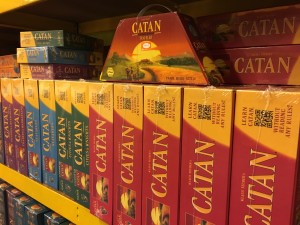 So being better prepared than in Bangkok, we had to give it a try in Kuala Lumpur as well. The Boardgame Café we wanted to visit was the Meeples Boardgame Café in Selangor.
The drive there was really straight forward. We took the train and from the train station we grabbed a Uber ride to the Boardgame Café.
The Boardgame Café was really nice and situated next to the University in a smaller shop complex with a lot of food stores and restaurants. We got a really nice welcome and managed to play two games, which were explained to us by two of the employees. The only thing that is a little bit off is that it seems that you have to bring your own group of people who want to play with you. Otherwise you end up alone and without anybody wanting to play with you 😉 Thankfully we travel in twos. We managed to play Lost Cities and Mr. Jack — both really nice games. I'm even thinking about buying Lost Cities. It seems to be a perfect in between game.