On Monday we've been to a Cooking Class at Time for Lime — organised by David Dand Vu. If you haven't heard about him you have to check out his Vlog about travelling through Thailand and all his adventures.
Time for Lime opened in 2003 and is located on Klong Dao beach — I have to say that I still don't have a total overview of all the beaches on Koh Lanta — have to get on it though. So Time for Lime started as a cookery school and is now a lot more than that. You have the possibility to stay at one of the 9 Bungalows or visit the bar for their great cocktails. But visiting Time for Lime for whatever reason is not only about enjoying the great Thai food and the great cocktails. The best thing about going to Time for Lime is that you will be supporting automatically a non-profit Animal Welfare charity — the Lanta Animal Welfare. There is no better way to enjoy a drink or have a great dinner, than by supporting people who are voluntarily helping animals.
Cooking Class — Transfer included?
When you book a Cooking Class at Time for Lime there are a lot of things included:
Free transport back and forth (except from/to Old Town, but we can arrange a taxi for a reasonable price)
Welcome snack
Drinking water, coffee & tea (Make sure you bring some pocket money to enjoy our famous cocktails, a nice glass of wine or a beer ;o)
Detailed recipes with great tips
Your own cooking apron to take home
Fresh fruit or a surprise dessert
Doggie bags for your leftovers
Beautiful and helpful memories to take home!
David organised the transfer from KoHub, but because the Escape-Cabins (our home for 2 months) is located on the way from KoHub to the Time for Lime Cookery School, we decided to work from home before going to the cooking class and not go to KoHub in the morning. So pick-up at KoHub was scheduled for 11 am — which meant that we would be waiting in front of the KoHub apartments at 11:05 am to get on time to the Cookery School. In the morning I once again checked the time with David before leaving, just to be sure and because we still hadn't had "portable" Wifi 😉
Sharp at 11 am we were standing in front of the KoHub apartments and hiding in the shadows — sooooo hot. 15 minutes later I got a little bit nervous and pinged David if everything was still on time — thanks to the KoHub apartments Wifi I wasn't totally cut off 🙂
It seemed that the driver was a bit late but already on his way.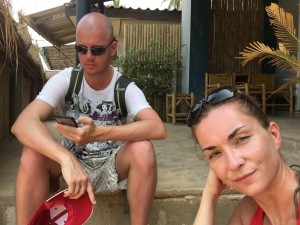 After another 15 min (11:30 am) a taxi stopped in front of the apartments and mentioned Time for Lime. A quick check at the passengers revealed that this seemed to be the wrong taxi, because David, Lilly, Ian and V weren't there. After asking the driver if he already had been at KoHub to pick up the people and him nodding in response, I was pretty sure that he wasn't the right guy for us. So we tried to explain to the driver that that didn't seem to be our transport and that we would wait for the right one. Especially because in that very same moment I received a message from David that the taxi would pick them up during the next 2 minutes and we should stay cool — not that easy to do at these temperatures.
Finally we've got picked up
So after another 15 min — 11:45 am — another taxi stopped at the KoHub apartments. No wait. Not another one. Exactly the same car with the same driver but different passengers 😉 After seeing David, Lilly, Ian and V, we jumped on the car and were on our way to the Cooking Class.
Well, hopefully the driver gets paid by km and not Cooking Classes 🙂
After we arrived at Time for Lime we were welcomed with a free drink for the inconvenience — lets start then with a Singha beer 🙂
The 3 S's + 1 extra S
Immediately I've noticed that Noi — our Chef for today — was a really funny and nice guy. He managed to keep us laughing through almost the entire 4 hours and explained everything amazingly good.
After a short introduction to the Thai cuisine and the most important ingredients, he explained the 3+1 S's: