After not having a clue how much our monthly expenses are for living in Austria, we were even less capable of telling how bis our living costs would be while living on Koh Lanta. And that's exactly the reason why we tried to list everything we spent money on during our 2 months trip through Asia. So beneath you will find a detailed description what the main expenses have been and what you can calculate for living as a digital nomad on Koh Lanta.
You should also know that we weren't really eager to have the least possible costs, but we definitely tried to make reasonable expenses — so the costs beneath should be really average costs for an average life style.
Living Costs — Getting around Koh Lanta
There are different ways how you can explore Koh Lanta, but asking around will give you the most common answer which is: "of course by motorbike."
Getting around Koh Lanta by motorbike
I know that the most recommended way for getting around Koh Lanta is renting a motorbike. But honestly, while being the first couple of weeks or probably even days on this beautiful island we saw at least 5 badly injured people. They all got in accidents because of riding a motorbike. And badly injured means that you shouldn't go near the ocean or be on the beach because of the salt and the sand. And this defeats the purpose of being on an island — at least for me 🙂
What you should know before renting a motorbike is that renting it longterm gets you a better price for about ฿ 180 per day instead of ฿ ~260 per day. That would result in approximately ฿ 10.800 for 60 days. Lets say we would get a discount and could calculate with ฿ 10.000 for these 60 days.
I'm not really sure if adding the costs that you would have to pay to get put together after a motorbike accident would be really fair. But let's just keep that in mind, shall we 🙂
So in addition of having to rent the bike you would also need to refuel it. The price for a liter of gasoline is a price that everyone on Koh Lanta seems to agree on, although the writing of the word seems to be something the people on Lanta still have to discuss. The price for 1 liter of gasoline is ฿ 40.
Getting around Koh Lanta by car
On the other hand renting a car would be approximately ฿ 1.000 per day, so not really comparable with renting a bike, at least when you take only the price into account. Still sitting in a car would give at least me a better and more secure feeling, than cruising around Koh Lanta on a Scooter.
Getting around Koh Lanta by foot and Tuk-Tuks
The third option would be exploring Koh Lanta by foot and by Tuk-Tuks. The price for a Tuk-Tuk ride depends on different things:
day time vs. night time: you will definitely make the experience that the rate will be more expensive as soon as it gets dark
the amount of beaches you are trespassing: although there is no fix rate for Tuk-Tuk rides, we noticed a somehow convenient ฿ 100 per beach (the price is for two people)
the attitude of the driver and yourself
your negotiation skills 😉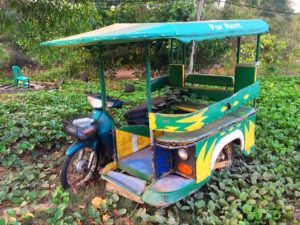 Summarised you can say that there are three different transportation possibilities while staying on Koh Lanta:
rent a motorbike — the most convenient way for most people
rent a car
go by foot & use Tuk-Tuks
So because we decided on option 3 — going by foot and using Tuk-Tuks we spent in total ฿ 2.545,00 on Tuk-Tuks which compared to a fixed amount of ฿ 10.000 for renting one bike for two people for 60 days is a lot cheaper. And even if we would have had to rent a motorbike for 1 or even 10 days to take part in different activities as going to Old Town or to the National Park it would have been still cheaper to rent it only for those special occasions.
Is going by TukTuk sufficient?
No it's not. We did all the short trips by taking a TukTuk and that's fine …
BUT, of course you would have to rent a car or a taxi driver to go around Koh Lanta. Trips to Old Town and for example to Koh Lantas beautiful National Park are both only manageable by car or motorbike.
So lets say you would have rent a car for two days to explore the island it would have cost you ฿ 2.000. Which makes a total amount of ฿ 4.545 for on-island transportation for 60 days. Which still is cheaper than renting a motorbike for 60 days!