Going to Koh Lanta, Thailand for the third year in a row, I have already a lot of things that I am really looking forward to. Koh Lanta, is a small island south from Krabi with around 30,500 inhabitants. In my opinion, this small island is a beautiful mix of touristy things to do and a backpacker lifestyle. You will find great hotel complexes in the south of the island. If you need something cheaper there are plenty of hostels and backpacker places as well.
If you are a nature person, you will find the waterfall or the national park in the south to visit. Are you more of an animal person, you have the possibility to volunteer at Lanta Animal Welfare. If you are more of a foodie, you can join cooking classes at either the Thai Cookery School or Time for Lime. And if photography is what you love, … well, do I need to say more than beaches, sunsets, nature, animals, …! If you are a diver, all I need to say is Koh Haa. And if you are a person who needs some time to work, KoHub is the place to be. But if you are just a person who wants to be left alone, well even then it's probably a good spot on this globe.
So if you are planning on coming to Koh Lanta or if you are still undecided about where to go next, let me share with you my favorite things I am looking forward to while staying on Koh Lanta.
KoHub 2.0 on Koh Lanta
Because I will be mainly working on Koh Lanta — and yes, you can still work while being on an island surrounded obviously by the ocean and cocktail drinking tourists that are enjoying their holidays — I am looking forward to checking out the new KoHub 2.0.
In the last two years, we have been working from KoHub (1.0) and it was great. But being super honest, it looked a little like a trial, which it probably was. And I get it. Building something from scratch without knowing if people will even come, is absolutely terrifying. And it also can go wrong in so many ways. But James, the owner of KoHub did a pretty amazing job building KoHub and establishing it as one of the top co-working spaces on this planet. Although I love the place, there have been so many things that needed improvement. And I think because James saw the potential and because he knew that he had built up a growing community of KoHubbers, he decided to move into a new place.
So checking out the new KoHub 2.0 with its new European toilettes and the bigger outdoor space is the top priority on my Koh Lanta list.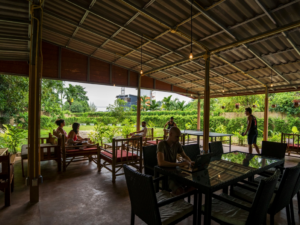 Massages on Koh Lanta
Being in Thailand you always, and I mean always take your time for some massages. And yes, that was plural. Last year we bought on our second day a 6000 Thai Baht coupon for Dreamy Spa and also went a couple of times to Serenity. This is exactly the lifestyle that I would prefer to live the whole year through and not only part-time. Being able to afford an amazing and relaxing massage without having to think about if you will be able to afford lunch the next day is a luxury that you can live and enjoy on Koh Lanta every single day. A great Thai massage is priced around 400 Baht, which is around 10 €. And it is one of the best massages I have had in my life.
Although be aware! As with the spiciness of dishes in Thailand, you have to be cautious when telling your masseuse that you want to have a soft Thai massage. During my last stay, I enhanced from a "please, really super soft" to a "middle strong" massage. That is pretty amazing.
For a quick after-work massage, I can recommend Dreamy Spa. They have really good Thai massages, although it also depends on the person who is giving you the massage.
Serenity is a place to go for a whole relaxation experience. When we go there, we tend to do a package, starting with a full-body scrub, a massage and a facial. After that you feel like Cleopatra: beautiful, taken care of and like a ruler.
While preparing for my trip in February I was already skimming their website 3 weeks prior to our departure checking out which package I would take as an "I am back on Lanta" treat. I even am thinking of booking a spot for the second day of my stay, but decided on being spontaneous 😉
Freaking amazing.
Communal Breakfast on Koh Lanta
The last time I was on Koh Lanta I noticed that there have been a lot of communal events in the evening. There is always either a board game night, a Karaoke night, dinner at a restaurant or just some drinks at a bar. For someone like me, who is neither drinking alcohol not eating after 6 pm that is a little bit inconvenient. So I established a communal breakfast on Sundays. The normal ritual would be to attend the 8 am Muay Thai class at Lanta Sport Resort, then go for a quick shower, take a TukTuk to Saladan, meet everyone else at around 11 am for breakfast at Moo Uan "The Fat Pig", have some fun with board games (mainly Port Royal) and then go for a 3 h spa treatment to Serenity. Do I need to say anything else?
If that sounds like a perfect day to you, well that's because it is damn close to being perfect!
The Community on Koh Lanta
To be honest, I have never met such an uplifting, amazing, energized and great community as on Koh Lanta. Especially at KoHub. I met there some of my best friends, who have all become my chosen family. And that is something that I will always be thankful for. Not only have we had an amazing time on Lanta but several of those friends I met in Europe again. They visited me in Vienna, I visited them at their home base and we also went for several holidays/trips/co-living experiences together. Sara, Diana, Ivan, Kevin, Carly, and Pascale – I miss all of you and hope to see you around the globe at some point.
Even if you are traveling alone, on Koh Lanta you never ever will stay alone!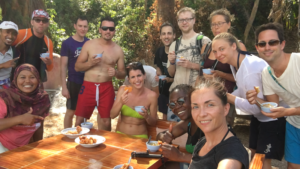 The 3 s's on Koh Lanta — sand, sea & sun
The title is probably all you need to know 😉 I mean, according to Alexa I can expect 0°C during the night here in Vienna. For February it is not that bad. But in comparison to Koh Lanta, where currently it's 25°C I definitely prefer Koh Lanta. And that is basically the reason why during February and March you most likely will always find me on this small but beautiful island.
Only a couple of days left and I will be boarding the plane from Vienna to Bangkok. With a short stop-over, the travel will continue from Bangkok to Krabi. There a pre-booked private car will be already waiting for me – thanks Sara for organizing that – which will bring me directly to Lanta Sport Resort on Koh Lanta.
Lanta – I am almost omw!