The Boston journey was more a spontaneous journey. We've planed the whole Boston and New York trip around the Lean Startup Machine Workshop. First of all we wanted to attend the workshop in New York which had been pretty cool, but than I was thinking that we would be spending money for staying in the hotel in New York although we wouldn't be able to really appreciate the wonderful city and it's treasures. The second thing that was not as perfect as I would wish was the time the workshop would take place in New York. The New Yorker workshop was scheduled for end of october, which would have meant at least 5-10 degrees less in °C on the thermometer than I would have wished for a trip to New York. So I started to search for different locations and found the perfect one: Boston, 27th-29th of September. Perfect, we could go for the workshop to Boston, maybe make a little tiny bit of Boston sightseeing and than go on to New York and spend there some days to take part at the New Yorker highlife. After we've both decided that we want to make this trip the planing part started: check the flights – best would be a jow flight: Vienna – Boston and than New York – Vienna, book the flights, book hotel in Boston, book hotel in New York, check the New York City Pass and book all the tours we want to participate in. A lot to do – so let's get started. Let's book the flights first, because this part is the most critical one, if you've booked the flights everything else will be a non-issue. After searching and comparing a lot of flights on different days and times of day, weekdays, weekends, direct vs. one stop flights, arrival on the day of workshop, arrival a couple of days before the workshop and spending a lot of time discussing which one would be the best, we've decided on a flight on the 24th of September (couple of days before the workshop, but still the flight was the cheapest one in a range of one week before the workshop), going back to Vienna from New York on the 9th of October = 16 days USA. Thankfully we wanted to go to America a year earlier, which we didn't but still I already had applied for my Visa and was lucky enough to have a polish citizenship and to receive a Visa which is valid for 10 years – so the hardest part was already accomplished.
Annotation on the side: for all people with a polish citizenship – take your time to prepare the application for the USA Visa, it's a lot of paper work, it's really time consuming and you'll have to calculate something around 150-170€ for the Visa itself, the phone call to make an appointment for your "talk" and for the photos you need, which make you look like a criminal but are necessary for your beautiful Visa.
After we've booked the flight on ebookers.de the next thing was for G. to fill out the ESTA form – done. The next thing to do was booking the hotels: we've started with Boston because we thought it would definitely the easier part of work – wrong assumption! The hotels in Boston are almost as expensive as in New York, which was really an uncomfortable surprise 🙁 I even was ok with the idea to try priceline.com, which helps you to find a hotel with the standards you specify yourself in the neighbourhood you want to stay and for the money you want to spend. But still, for the money that we wanted to spend we couldn't find any hotel nearby and even on the farther ranges of Boston. Than I remembered that a good colleague from the studies was now living in Boston, or nearby and has already invited me once to Boston – what a great coincidence. So I contacted him and voila – we had a place to stay. It has turned out not to be Boston in any way, but it was easy to get to Boston and it was the best possibility to get a feeling for a Bostoner neighbourhood. Newton Heighlands – a beautiful small suburb town 45 min by T from Boston. Unfortunately it turned out that my colleague would be at exactly that time in South America, so we wouldn't have time to spend some time chatting, but otherwise it hopefully wont be the last time we went to Boston. After settling the stay in Boston, Newton Heighlands, we went on searching for a hotel in New York. Because we both already have been to New York and we both new that the hotels are really pretty expensive, which means 200 $ per room at least, we knew that it would be a hard time to find a hotel that was as cheap as possible and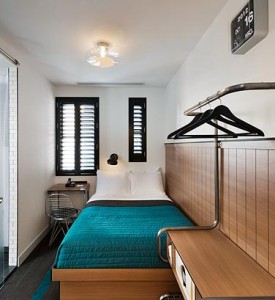 that would still meet my expectations. And talking about my expectations, here they are: clean and tidy hotel room, clean bath room, if possible a new or newly renovated hotel and of course if possible @Manhatten. With these expectations we definitely broke the limit of 200 $ per night for hotels in NY. Finally, after googling a lot on different platforms I found a hotel called Pod 39. This hotel seems to attract people with the newish and modern style and with the promise to get a nice and comfy room: "The Pod Hotels offer hip, convenient and personalized accommodations for the stylish and spend thrifty traveler. The Hotels are located in the heart of Manhattan and are New York's number one choice for visitors on a budget." – The Pod After checking the ebookers.de homepage and finding a discount code for 20% off, we've decided to book the pod 39 for 9 nights, because we still had the possibility to cancel the reservation until one day before are stay (if you book over ebookers.de this seems to be a standard they offer) if we would find something "better". But after reading all the reviews that had exactly one thing in common: "the rooms are definitely small but really clean" I was satisfied and reassured that we've already found the perfect place to stay for 9 nights in New York City. The pod39 was € 1842,20 without breakfast for a double pod for 9 nights; € 102 per night per person.
Checklist:
flight Vienna – Boston, New York – Vienna: booked
hotel in Boston: staying at a friends place: awesome
hotel in New York: found and booked
plans for Boston: ? & Lean Startup Machine (LSM)
plans for New York: work in progress
After comparing the three available New York discount cards New York Explorer Pass, New York City Pass and the New York Pass we've decided to get the New York Pass for the following reasons:
the New York Explorer Pass is good if you want to see a specific amount of things up to 10 (for $178.49) limited to 30 days – no way – we definitely want to get the most out of the city and that means a lot more than 10 attractions
the New York City Pass is pretty cheap with $106 but is limited to 6 specified attractions valid for 9 days – no way – 6 is not enough and includes 3 museums, that's to much art 😉
the New York Pass is valid for 1 ($85), 2 ($117), 3 ($ 162) or 7 ($207) days and you have an unlimited amount of attractions you can visit.
After buying the New York Pass online the next step was to create a first draft of a schedule for the New York visit to book all the tours in advance:
New York Gospel Walking Tour
Grand Central Terminal Audio Tour
Inside Broadway Tours
NBC Studio Tour
On Location Tours Central Park TV and Movie Sites
Radio City Music Hall Stage Door Tour
SoHo-­Little Italy-­Chinatown Walking Tour
Tour at Lincoln Center
Carnegie Hall Tours
in line with all the other things that we wanted to see:
9/11 Tribute Center
Discovery Times Square
Empire State Building Observation Deck
Intrepid Sea, Air & Space Museum
Madame Tussauds New York
New York Skyride
Solomon R. Guggenheim Museum
The Museum of Sex
Top of the Rock
Walk on the High Line
and all the stuff that we wanted to see that wasn't a real attraction to pay for:
Central Park
Carrie Bradshaws appartement building
Magnolias Bakery
NY Cake
Flat Iron
M&Ms World
Disney Store
Apple Store
Heaster STreet Fair
…
in addition the plans we had for our evenings:
Comedy Club
Lion King
Jazz Club – Village Vanguard
Book launch
boardgame evening
cooking class (NYfor2)
So on the weekend before we started our journey to Boston the first draft for the days in New York was finalised: